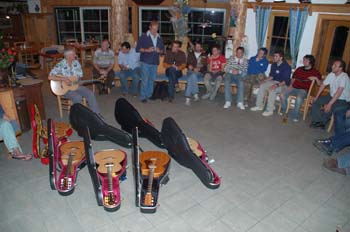 It's been a fantastic summer – My yearly residential guitar workshop "boot camp" was brilliant due to a magic constellation of students, teachers and great weather on the mountain. I'm already excited about next year!
2007 guitar boot camp pictures here
…and here are some from Matt B.
The music festivals in Aflenz (A), the IGF Bath (UK), Lewes (UK), Limerick (IRE), Hersbruck (GER) and Bregenz (A) as well as all the concerts in between also were a lot of fun and on the top of it all I recorded the new album 'Desert Pirate' in two days at the Hitbox Altenburg where 'riddle' and 'Upside Down' were also done. For those two albums we've tried to achieve a 'larger-than-life' type of sound but this time we are aiming at RFB (really f***ing big). We must have hit the target because a manic grin keeps spreading across my face while listening to the near-final mixes. Am very excited about this one – it should be out in October. Featuring new original tunes as well as a cover of Bob Marley's "No Woman No Cry" and Bjork's "Isobel".
The only bad news: I have to write quite a bit of tablature in the next month, which is not much fun at all!